DMC's LDF19 Roundup!
London Design Festival is one of the most prolific events for the interiors industry and one any respected agency should have in their calendar.
This year, our Senior PR and Social Media Executive Jasmine headed to 100% Design and the V&A to get all the latest on up-and-coming designers and the newest trends in colour, materials and more.
First impressions of 100% Design 2019 were strong; stepping off the Overground to be met by the ultimate Instagrammable moment - a retro-inspired Tube carriage adorned in pastel pink and green tones showcasing Kirkby Design's latest upholstery velvet fabric designs. Aptly named 'Underground Vol. II', this marks Kirkby's second collaboration with TFL, with the new fabrics capturing some of the most iconic carriage designs over the decades.
Upon entering the exhibition, the vibrancy of the space made it clear that colour was going to be a staple focus of the festival this year. From soft pastels and muted neutrals to pops of powerful primary colours, colour was in abundance everywhere you looked.
The Weave chair by Assa Designs, which was part of the Design Fresh exhibition curated by Barbara Chandler, was one of our personal highlights. What a statement piece this would make in the DMC office!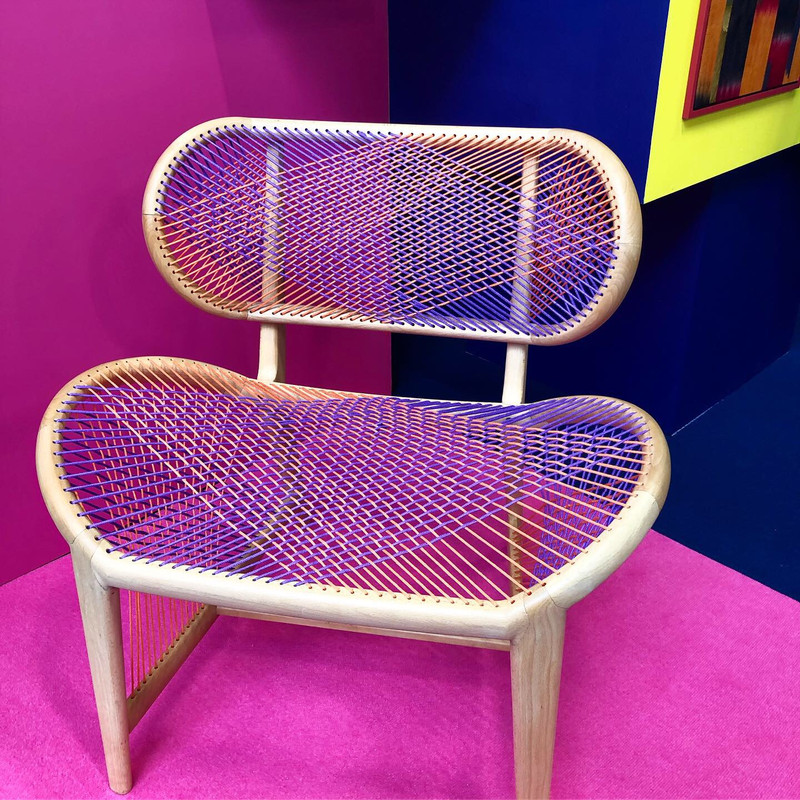 Alternative material solutions had also been given careful consideration at this year's show. This was particularly apparent at the Bamboo Ring structure, displayed beautifully in the John Madejski Gardens at the V&A. Interestingly, weaving was also a common theme here – however this time using rings of bamboo and carbon fibre. The materials used in the installation explore the amalgamation of lightness and strength along with the beauty of bamboo and how it can be used as a viable sustainable material to support the future of architecture. Back at 100% Design, timber finishes also caught our eye. Likely inspired by the scandi aesthetic and wellness inspired living, wooden designs were found across seating, desk and office furniture, shelving, bedding and even used throughout the exterior and interior of Tapio Anttila Collection and Polar Life Haus' captivating eco log house 'A Sense of Finland'. They were also serving up samples of a delicious chocolate infused with liquorice. Safe to say we took double helpings!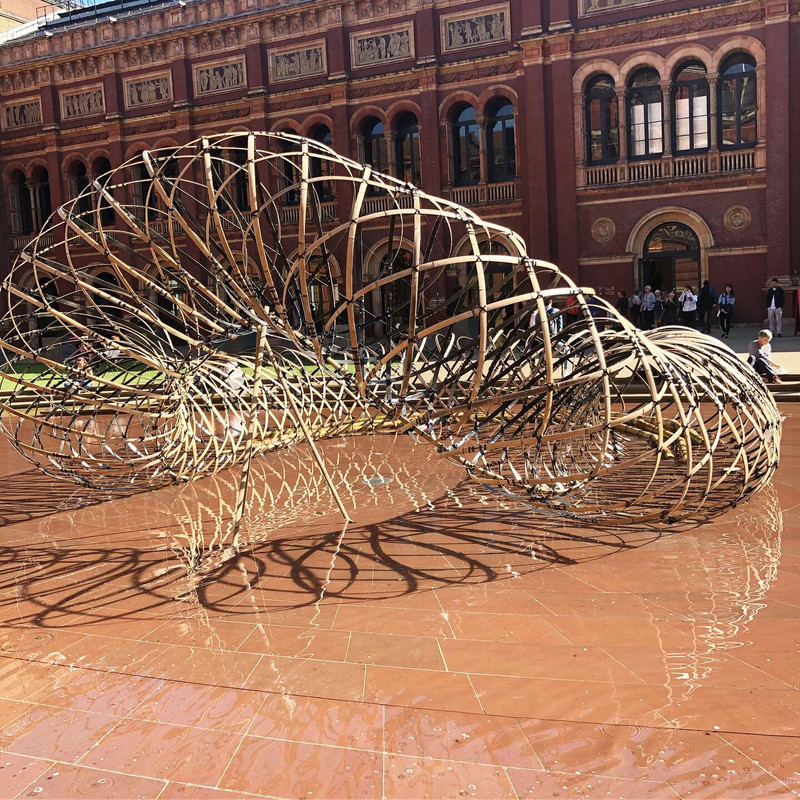 Bamboo Ring by Kengo Kuma
We also think circles are soon to have their moment when it comes to furniture design so watch this space! We saw circles at the forefront of lighting design, chairs, sanitaryware, accessories and more, and are looking forward how to seeing how this trend develops into 2020.
And finally, a design show wouldn't be complete without some reference to the giant power force that is Instagram. It influences every single stage of the design process; from manufacturers to designers, architects to consumers. And highlighting exactly that topic at 100% Design was a collection of six cameo sets from industry creatives and designers including the likes of 2LG Studio, Matilda Goad and Benjamin Kempton. Each "insta-interiors" kiosk highlighted how the designer uses Instagram to create spaces that connect and inspire people. Some truly inspiring murals and some perceptive insight to an industry that is increasingly becoming such a fundamental part of our livelihood as PR professionals.
Instagram inspired cameo set by 2LG Studio
That in short sums up our whistle stop tour of LDF19. Now as the seasons change, we set our sights on the next events pencilled in our calendar: Decorex, Sleep + Eat 2019 and of course Press Christmas events too!